Basic Principles / How We Do It
Equity Optimization™ is an elegantly simple process of using the earning power of your assets to offset interest on your loans. You dont need to Replace Your Mortgage.
If you have $1000 in your checking account and a $1000 balance on your credit card from the same bank why don't you get credit for the money you have parked there?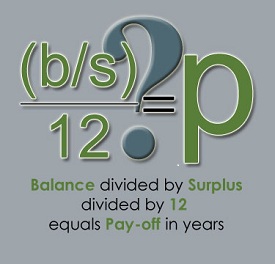 Our service analyzes all of your monthly transactions and finds hidden interest savings that can be used to payoff debts quicker by paying the principal down faster thereby accelerating your mortgage. Changing the way you pay your bills and the timing can often help reduce principal. Our Equity Advantage™ program combines thousands of case studies with basic accounting principles bringing together our knowledge and expertise in "Credit Line Banking™" aka "CLB™", lending and cash management strategies.
We'll teach you how to utilize basic banking products like mortgage loans and checking accounts to get more out of your hard earned dollar. By simply rearranging how you manage your personal finances you can literally pay your mortgage off in 5-7 years™. Thousands before you, have already done it. Before you Replace Your Mortgage, get your free analysis.
Our services are consultative and educational in nature. We bring our knowledge and expertise in banking and lending to assist you in the implementation and execution of the Equity Advantage™ Program. We take a pragmatic and systematic approach:
Analysis: Thorough cash flow analysis of what you earn, spend and owe to determine the best course of action.
Implementation: Proper structuring, timing, and placement of your finances.
Execution: Unlimited support throughout the life of the program. 
Guidance: Professional guidance and support ensures success. 
Evaluation: Ongoing assessment and performance evaluation.
Rewards: Monthly savings can be applied to loans, new purchases, or retirement planning.  
Since 2006 the strategies we promote and facilitate have helped our customers
achieve amazing results. With our help, homeowners just like you have:
Retained up to 50% more of their monthly income.
Reduced interest costs up to 75%.
Shortened the lifespan of long term debt by 20 years or more and no need to Replace Your Mortgage.
If you haven't already submitted your personal profile please do so by filling out the form on the home page.